ANY used building materials to be disturbed, EXCEPT wood, glass, and metal, may need to be inspected by an AHERA Building Inspector for asbestos, by a certified NVLAP, prior to disposal. No matter the age of the home.
Environmental Services in Wenatchee, WA
Welcome to A1 Asbestos, LLC, Washington's locally owned and operated asbestos testing and treatment company. Since 2010, we've been keeping Wenatchee and Cashmere, WA's homes and businesses safe and up to code with our asbestos, mold and lead removal services.
Call today to learn more about what we can do for you.
Your Complete Environmental Services Provider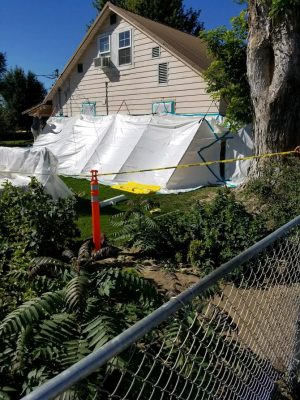 Whether you're working hard at the office or relaxing at home, you never want to have to worry that the very structure that protects you from the elements and provides you comfort could also be potentially endangering your health. If you're worried that there might be a dangerous amount of asbestos on your property, you'll want to hire an environmental services specialist that is professional, effective and courteous. For treatment and removal in Wenatchee Valley, WA, that service is A1 Asbestos, LLC. We've been proudly serving the area since 2010, and we look forward to being a part of the community for many more years to come.
Since we first opened for business, A1 Asbestos, LLC has established itself as an insurance preferred and accepted testing company, and we're licensed, bonded, certified and triple insured. We're also known for going above and beyond in our customer service, taking every step to ensure that our customers get all their questions answered and all their concerns addressed. Here are just a few reasons to consider contacting us for environmental services:
We are a proud locally owned and operated business in Wenatchee Valley, WA.
We've built a reputation over the last five years for excellent customer service.
We are fully licensed, bonded, certified and triple insured.
We provide asbestos testing and treatment as well as many other mold and air quality services.
Our prices are competitive and transparent.
Zonolite is a fund avail for qualified removal of Zonolite brand vermiculite
Our Service Areas Include:
Adams County, WA
Benton County, WA
Cashmere, WA
Chelan County, WA
Cle Elum, WA
Douglas County, WA
East Wenatchee, WA
Ellensburg, WA
Franklin County, WA
Grand Coulee, WA
Grant County, WA
Kittitas County, WA
Leavenworth, WA
Lincoln County, WA
Moses Lake, WA
Okanogan County, WA
Omak, WA
Quincy, WA
Tri-Cities, WA
Twisp, WA
Wenatchee Valley, WA
Winthrop, WA
Yakima, WA